Cretan Diet and Recipes. Cretan Olive Oil, Greece
Learn about the famous traditional cuisine and nutrition of Crete.
SOURCE: CRETE TOURNET - https://www.crete.tournet.gr/en/alternative-tourism/cretan-diet?layout=blog
Cretan Diet
The following content has been republished from the website of "
Association of Cretan Olive Municipalities
"
www.sedik.gr
.
The incorporation of olive oil in the dietary habits of the Cretans dates back to ancient times. The writings in Linear A and B tablets ascertain that Minoans used it in their nutrition dating at least as far back as 1800 BC.
Today, Cretans consume large quantities of virgin olive oil in all their foods. They use generous quantities in their salads, in their fried dishes (fish, potatoes, etc), in boiled greens, in soups, in all oily dishes, in pastries and even in the preparation of pork!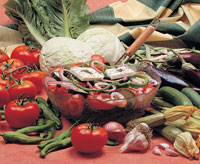 Salads
Salads of fresh vegetables are an indispensable dish of the Cretan cuisine. However, they need fresh, extra virgin olive oil.
Fried dishes
Virgin olive oil is incomparably superior for the frying of all foods. This is so because it boasts great tolerance in high temperatures, whilst other oils break up into units detrimental to human health, but also due to the fact that it adds to fried food better flavour than other oils. It is "accused" of adopting a slight odour after 2-3 uses. This, however, does not present a drawback. On the contrary, it is proof of its naturalness! This is the case because the dark green hue it produces after a few uses stems from the "cooking" of the natural coloration which it contains, and which is not contained in processed oils such as refined olive oils and naturally in seed oils!
Of course, virgin olive oil may be a bit more costly than refined olive oils or seed oils (that do not darken), but it is definitely worth its preference!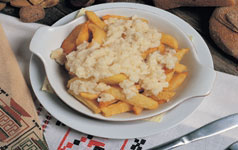 Grilled dishes
Roast or grilled meat and fishes consist also part of the Cretan diet. However, extra virgin olive oil is necessary for their preparation.

Oily dishes
Oily foods, prepared in combination with various vegetables (beans, zucchinis, aubergines, okras), potatoes and meat, are incomparable when cooked in Extra Virgin Olive oil.
Boiled dishes
Boiled greens and legumes make up the basis of the Cretan Diet. But they are complemented with extra virgin olive oil.
You can read more about Crete Diet at the website of "Association of Cretan Olive Municipalities"
www.sedik.gr
Garden Produce

One more basic feature of the Cretan diet is the large consumption of vegetables and other products of vegetable origin. On average, Cretans are at the top of the scale in terms of vegetable consumption. In fact, they consume three times the amount of vegetables than Europeans! That, too, is part of their secret for a long and healthy life. This dietary habit provides the average Cretan with an abundance of fibers, vitamins, and other nutrients required for human sustenance.
At the same time vegetables contain trace elements many of which are essential in metabolism or for the production of essential compounds, while deficiency in those elements causes metabolic syndromes. Vegetables promote the good operation of the intestines and ward off cancer of the large intestine. Their contribution to the operation of the digestive system is remarkable, and they are rich in vitamins necessary for the metabolism of various tissues. Much of the vegetables consumed in large quantities on Crete are rich in fatty acids which prevent cardiac diseases and most forms of cancer.
The linoleic acid contained in the variety of vegetables consumed by Cretans is a true shield of health! It protects the heart and the circulatory system. Some of the most common garden produce of Crete originates from other regions of the world, e.g. the tomato, which revolutionized the Cretan cuisine and shaped the character of Cretan diet as we know it today.
Cretan tomatoes are naturally ripened and free from hormones. Other agricultural products of Crete, cucumbers, marrows, etc., are cultivated in the lush valleys of the island under the most favourable weather conditions -- no snow during winter and moderate temperatures at the heart of the summer.
Areas that are considered most favourable for vegetable production are mainly found in the south of the island, in niches where even the swallows do not need to migrate further south, to Africa. The garden produce of Crete grows in a natural environment, under the moderate temperatures of a slanting golden sun and within a naturally scented environment. Cretans have a particular affection for the soil that provides them with the means for a good, long life. Technology is good as long as it does not violate and debase their dietary codes the observance of which gave Cretans the title of the lowest heart-attack risk, the lowest death rate, and the greatest life expectancy in the Western world.
Garden produce is cultivated in the southern, coastal regions of Crete, mainly at Ierapetra, Messara, south of Rethymnon, in the coastal area of Selino, of Kisamo and elsewhere.
Cretan Cuisine and Mediterranean Diet
In the latest years many mentions have been made about the Cretan Diet and Mediterranean Diet. So it is now well known that the Cretan and Mediterranean Diet is not only aromatic and tasteful, but also extremely healthy. The food has already taken the right place in our culture, equivalent to our monumental identity and our sun and sea. The most important product that gave so much credit to Cretan Diet is our virgin olive oil. The contribution of the local wine, vegetables, meat, dairy products (feta cheese, gruviere) is also significant.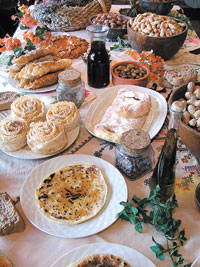 The modern dietology considers the Cretan diet and the Cretan way of life as the reason for long living and good health. Most of the international researches bring Crete forward as the example of the Mediterranean Diet. Since the suggestion that the residents of the island have the lowest mortality rates internationally and the less heart attack or cancer diseases, scientists started searching for the identity of the Cretan Diet that gives the Cretans all these health privileges. But very soon it was obvious that it was all about a story well hidden in the past time. That means it isn't a result of a research by some scientists but a biological experiment that lasts thousands of years!
Cretan Products
For the Cretans, the secret of good health and long living is very simple. They eat all that their rich solid gives them. Many fruits, vegetables, groceries, legumes, varieties of cheese, olive oil and bread. They scent the taste with marvelous herbs like oregano, they make desserts with natural sweetening materials, honey and molasses, and accompany their meal with excellent local wine.
Read more information about:
Olive oil products
Honey and its products
Crete cuisine & Cretan Recipes
So don't miss, during your stay in Crete, to taste all the island's traditional recipes. Appetizers and dishes like rusks, honey and cheese, pies from Sfakia, grass pies, cream cheese, boiled snails, staka, stuffed vine leaves, rabbit casserole, patty, Sfakian casserole and many more are tastes you will remember for ever.
Restaurants and taverns in Crete
In Crete are many restaurants and taverns that offer traditional cretan recipes, using only pure, natural local ingredients. There are also traditional stores, from where you can buy authentic products of the Cretan earth.
Read more information about:
Quality of olive-oil in Crete
Quality of olive-oil in Crete
The following content has been republished from the website of "
Association of Cretan Olive Municipalities
"
www.sedik.gr
.
The special geo-climatic conditions of Crete and, in particular, the sun-drenched days of summer and autumn, along with the proper application of local research, not to mention the love of the Cretans for the olive tree and its oil, have all culminated in a spectacular improvement in the level of quality!
Today, over 95% of the olive oil produced in Crete belongs to the highest category of quality labeled as "Extra Virgin".
Factors favouring quality
Olive oil as it is produced on Crete today has excellent quality characteristics. Its acidity is extremely low and its organoleptic characteristics (flavour, aroma) are excellent. Thus a quite large percentage of Cretan olive oil in the order of 85-95%, depending on annual conditions, is placed in the highest quality category of EXTRA VIRGIN OLIVE OIL (Fig. 1). The corresponding figures for olive oils from other olive oil producing countries is today considerably lower.
Its excellent organoleptic characteristics, in other words the unparalleled flavour and exceptional aroma of Cretan olive oil, is certainly due to the high levels of sunshine and the dry climate which prevails in most areas of the island, particularly during the autumn and winter period when the oil is formed in the fruit.
Nonetheless, achievement of the top quality of Cretan olive oil is also contributed to and assisted by the diligent cultivation of producers and effective combating of the olive fly in conjunction with proper and rapid harvesting.
Shortening the period of time between harvesting and pressing and the high conditions of cleanliness of the olive fruit from the olive plantation to the olive press are also considered to be important technical factors which contribute decisively to improving quality.
Shortening the time from harvesting to pressing, which over recent years has reached just 1-2 days, is a Greek success which is due, in addition to mechanizing of harvesting using small olive collection devices, too to the large number of modern high capacity olive presses which exist on Crete which manage to process almost all olives received each day.
You can read more about
Cretan Diet
at the website of "
Association of Cretan Olive Municipalities
"
www.sedik.gr
Olive oil Products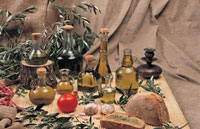 In addition to oil the olive tree also provides us with many other products.
Olives themselves, which are prepared in different ways depending on the variety, are used as an addition to lunches, salads and in many dishes and are an excellent, tasty and healthy food.
On Crete there are many well known traditional ways to prepare olives which are used at home for household purposes or in small industries for sale on the market. The best known ways are:
Green olives in brine or split olives which are prepared using the fruit of the Tsounati or Mouratolia varieties.
Black olives as a paste or in brine which are prepared from the thick fleshed varieties Throumbolia, Hondrolia or Tsounati or small fruited varieties and the most widespread variety on Crete, Lianolia or Coroneiki.
Olive tree wood has been used since antiquity as a fuel substance, for wooden piles in architecture, for column connectors, for agricultural and other tools and for constructing idols of gods and other wooden statues.
Today olive wood is the raw material for making furniture and wooden sculptures. On Crete there are quite a few excellent artisans who produce real masterpieces from olive wood. This hard, durable and at the same time excellent looking wood with its numerous natural formations is an exceptional raw material from making tables, chairs, beds and many other decorative items.
Olive leaves and branches have been used as mattresses since ancient times and are today used as animal feed and fuel.
The leaves of the olive tree which are removed from the fruit at the olive presses are used as a raw material for producing compost suitable for fertilizing olive plantations intended for the production of organic olive oil.